Alice Tai: Briton wins sixth gold as schedule taking toll at World Para-swimming Championships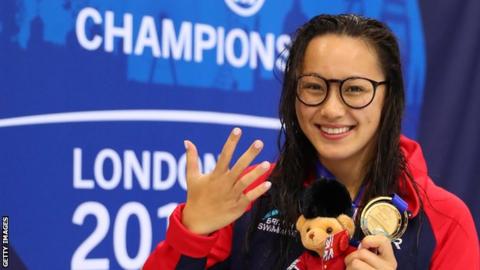 Britain's Alice Tai continued her perfect record with her sixth gold from six races on day five of the Para-swimming World Championships.
Tai won her fifth title in the S8 50m freestyle and then followed it up as part of the 4x100m medley relay team.
She said that her packed schedule had taken its toll after winning her fifth gold.
But the 20-year-old told BBC Sport after her races: "It's so special. I love relays so much."
Tai, Brock Whiston, Toni Shaw and Steph Millward set a new world record as they beat the United States by more than 22 seconds.
"I love being able to share the race and the podium with three amazing people," Tai said.
"It was pretty tough having raced already today. That's my 11th race of the meet so far, so I've done a lot of swimming, but to have these guys follow through after that first leg and really smash it and contribute to a gold medal and a world record is amazing."
Millward who, like Tai won gold for Great Britain in the event at the Rio Paralympics, swam the anchor leg to bring her team home in a time of four minutes 36.31 seconds, easily smashing the 4:45.23 standard from three years ago.
"I knew that we were going to be good, incredibly good," she said.
"I even told people that we're going to take this world record tonight, I said 'cheer us on, I bet we're going to take it' but I didn't think we'd take it by quite so much.
"This team is wonderful."
'I am just really tired'
After her individual victory, Tai admitted to feeling the effects of her packed championships, which will see her go in eight events over seven days.
"I got drug tested after my race on Thursday night and didn't get back to the hotel until midnight," she said.
"I am just really tired and hopefully I can get a better sleep tonight and bring it back strong tomorrow for the individual medley.
"But this gold is special. I'm a bit disappointed with the time but given the amount of swimming I have done this week, I'm ok with it.
"I have a lot to give next year and I am excited about that."
It was also a second medal of the night for 16-year-old Shaw, who won silver in the S9 400m freestyle as Australia's Lakeisha Patterson took gold.
Shaw always knew beating Patterson, the favourite, would be a big ask - but she got the better of Nuria Marquez Soto of Spain and Australia's Ellie Cole, the Rio gold and silver medallists.
"To get on the podium with such a strong field is really good," she said. "My coach said try to stick to Lakeisha as long as you can, so that what I was trying to do, but she is such an amazing swimmer."